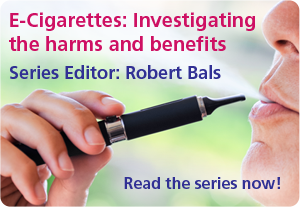 Guest Editor: Robert Bals (Saarland University, Germany)
This series of articles, published in Respiratory Research, provides the newest research and comprehensive background information on e-cigarettes. The articles aim to address the needs of basic researchers, clinicians and other individuals that need up-to-date information on this topic.
The series is still open for submissions which would undergo the journals normal peer review process. Funds may be available to cover article processing charges, at the Editors discretion.
Manuscripts should be formatted according to our submission guidelines and submitted via the online submission system. In the submission system please make sure the correct collection title is chosen from the additional information tab. Please also indicate clearly in the covering letter that the manuscript is to be considered for the electronic cigarette collection.
For further information, please email respiratory-research@biomedcentral.com