Research integrity is an important driver of reliable and trustworthy research, and includes issues such as reproducibility and replicability. There is a need to promote robust research, starting at the lab bench and extending to the dissemination of findings to the scientific community, as well as the public.
Following a call from the UK House of Commons Science and Technology Committee for evidence on reproducibility and research integrity, and the roles different institutions play in this, BMC Research Notes has partnered with the UK Reproducibility Network to provide a platform to share feedback on the topic with the wider scientific community.
In this BMC Research Notes collection, we welcome contributions on the following topics:
Factors that influence reproducibility and research integrity;
The role of different stakeholders in addressing these factors;
Proposals for improving research integrity and quality;
Guidance and support for researchers.
We welcome articles that are based on submissions to the Science and Technology Committee, including submissions by individuals, groups or organisations. Contributions from across the globe are invited.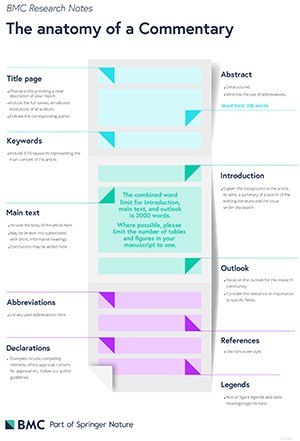 All articles should be submitted as Commentaries, which can be presented as thought-provoking opinion pieces or guidance documents. Take a look at the infographic detailing what Commentary articles should look like, including formatting instructions and word limits.
This collection will not consider primary research articles or research notes.
Articles will undergo the journal's standard peer-review process and article-processing charges apply (with standard waiver policy).
Before submitting your manuscript, please ensure you have carefully read the submission guidelines for BMC Research Notes. Please ensure you highlight in your cover letter that you are submitting to a collection and select the collection in the submission questionnaire in Editorial Manager.
Please contact the Editor for BMC Research Notes, Dr Tamara Hughes, for more information.